Tag: apple
by Gaveroid on May.28, 2015, under General, Mobile Devices
Lately there's been a bit issue with iPhones where by sending a certain text message, if the notification is received while on the lock screen the device will reboot. I've seen it first-hand, constantly today people all around me are rebooting each others' phones. I've been told that some people have had certain areas of their phone corrupted by this issue and they can't open their Messages app.
This is the message:
effective.  Power لُلُصّبُلُلصّبُررً ॣ ॣh ॣ ॣ
It makes no sense, does it? It's just a random string of mostly Arabic (or whatever it is) letters that happens to crash the phone. In my experience, it's only possible on iPhone 5 and up devices, and does not work for the iPod Touch or iPad line of devices.
Here's how to fix it: turn off your notifications. Launch the Settings app, and go to Notifications. Toggle it to off, and you will no longer be affected. If it has made you unable to launch your Messages app, go into your Photos app, into your photo gallery and try to text a photo – any photo – and it will fix the issue according to somebody I talked to in real life who has experienced this first-hand. I've also heard accounts of people's only option being factory resetting the phone, so this could be a prank gone wrong for you – don't do it. Comment below if you've been sent this message, and what happened!
– Gavin (Gaveroid)
Image found on thenewdaily.com.au 's article on this matter. All other information was not sourced from their article and rather from personal experience. Text version of message was found on Reddit, posted by /u/CashtoMoney.
Leave a Comment
:apple, apple computers, arabic, code, effective power, effective., effective. Power لُلُصّبُلُلصّبُررً ॣ ॣh ॣ ॣ, hack, ios, ios 8, ipad, iphones, ipod, ipod touch, mac, macintosh, message, notifications, power, shut down, slidedeck, sms, text message, virus, لُلُصّبُلُلصّبُررً ॣ ॣh ॣ ॣ
more...
by Gaveroid on Sep.12, 2013, under General
Everyone seems to think that Apple's Mac OS X operating system is 100% virus free – but that's not true. A new variant of malware has been found that infects Mac OS X machines – here's more about it, such as how it works, and how you can protect yourself from it.
This new variant of malware (that's what it's reported as, I think it's more towards spyware) has been discovered on OS X by a security company called Intego. The name of the malware is OSX/Tibet.D. It's a variant of the Tibet viruses, which have been known to infect Macs in the past. This nasty infection enables the attacker to access files on your computer, as well as initiate commands.
According to Mashable, Apple hasn't yet responded to their request for a comment.
Here's more on what it does, and how it works (a.k.a. the technical stuff… yay!).
What happens is, a Java applet is ran without asking the user. That installs a Java archive which (once installed) creates a backdoor so the attacker can access the data on your computer.
Now, it's not the only virus on the Macintosh platform, but it's one of a select common few. It makes it's way to your machine using a Java applet on a certain website. Java does not come pre-loaded on Mac OS X, as it has been known to be a big security problem in the past. However, you may install it if you like. If Java is not used in 35 days, it is automatically disabled (but you can re-enable it without reinstalling).
What happens is, a Java applet is ran without asking the user. That installs a Java archive which (once installed) creates a backdoor so the attacker can access the data on your computer as well as run commands. The Java vulnerabilities (which have been recently patched in the latest update) that it uses are CVE-2013-2465 and CVE-2013-2471. If you have not updated your Java to the latest version, I'd recommend doing so… pronto!
According to Intego, the files inside the Java archive are the following (image found at Intego's website – it can be found at this link).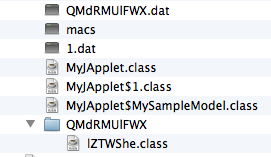 When that archive is installed, it creates these files:
/Library/LaunchAgents/AudioService
/Library/LaunchAgents/com.apple.AudioService.plist
LaunchAgent is a tool that starts the malware once you reboot the computer. The malware initates the backdoor, known as "AudioService." What that backdoor does, is it contacts a Chinese command-and-control server. It recieves commands from the attacker through that server, therefore, letting them access the files on your machine.
If you have a Mac, it would be a wise idea to install some kind of antivirus (Intego claims that their VirusBarrier antivirus will protect Macs from that and similar viruses), as well as update Java. Always make sure your programs are updated for added security!
by Gavin Trutzenbach
Leave a Comment
:apple, imac, java, mac, virus
more...
Looking for something?
Use the form below to search Gaveroid.com:
Still not finding what you're looking for?Contact us so we can take care of it!