Food
by Gaveroid on Mar.09, 2013, under Food, General
Good morning!
I just got up a little while ago and had a wonderful breakfast of southern style white/brown gravy (I forget what color it is, it looks more white but is considered brown – I dunno), and a fried egg, and some biscuits that the gravy went over. It was delish!
So, what did you have for your morning meal today? Comment below and let me know!
Gavin
Leave a Comment
more...
by Darwood37 on Mar.03, 2013, under Food, General
 

Cornish Pasties III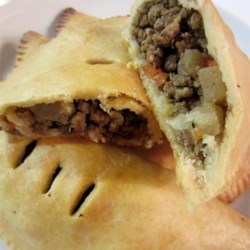 "The Cornish Pasties made with the lard are the best.  It makes the crust and the rest of the meat pie taste great. Here is the recipe that I grew up with and is the best pastie you will ever eat. You will need 12 9-inch pie pans for this recipe (if you don't have that many, you can buy aluminum pans or make the pasties in batches)."
posted on allrecipies.com by Mary Mrotek.
1 Comment
more...
Looking for something?
Use the form below to search Gaveroid.com:
Still not finding what you're looking for?Contact us so we can take care of it!